First use: Ariens 24" SHO
---
This was my first use of the 24" SHO machine. It was delivered to me a couple months ago and we really haven't had enough snow fall to justify hauling it out of the basement...I've made due with the Path Pro so far.
When the machine was delivered to me, it appeared the selling dealer had filled the tank with gasoline. The restrictor/screen makes it nearly impossible to gage how much gas is in the tank. I found out the hard way...
I think we got 5" of snow and we got the machine going without much fanfare. I wanted to shoot a video of it throwing snow but not much had fallen. Regardless, I set up the video camera and let my son make the first couple passes. There wasn't any more than 3" at the top of the drive but lower down there was 10" or so where drifts had formed overnight. The snow was very light, dry.
As you'll see around the 1:10 mark in the video, the machine sputtered and then died. (None of this was proceeding as I intended
) I went down the drive and could do nothing to get the machine re-started. We were forced to drag that blower up the drive. Once at the top of the drive, I was able to re-start if after spinning the starter motor for a few seconds. It came back to life and I ran it around for a few minutes clearing some snow outside the garages. It sputtered and died again
We added a full quart of Trufuel and re-started again. It seemed OK after that. I sent him down the drive again in an attempt to complete our video, but the camera then went dead from the cold air
We continued cleaning for a bit and then the SHO sputtered and died again. Luckily it was at the top of the driveway this time. I checked the fuel level and think it sucked down the entire quart of fuel in a very short period! Is this thing a thirsty beast?? I filled the gas tank again, brimful, with regular gasoline and started it up again so we could finish. It was turning out to be quite the fiasco given how little snow there was.
Observations/thought:
I don't like the chute control design, it's way too floppy. The mechanism on the other machine is far superior, IMO.
Maybe the gasoline the dealer put in had turned stale or separated and caused the initial failure?
I've got to spend some time squaring up the bucket alignment, checking tire pressures and raising the scraper bar. The Auto Turn really causes this machine to jump around a lot...you can see it at the end of the video when he is near the street.
I need to figure out the fuel level on this one. I simply have not had trouble gassing up the other machines which also have that screen in the filler neck.
The rate of forward progress seems very slow on this machine, even with speed 6. Speed 1 feels like it's barely moving.
Apart from that, this SHO really can throw snow far. We just need some real snow to work on!
Video: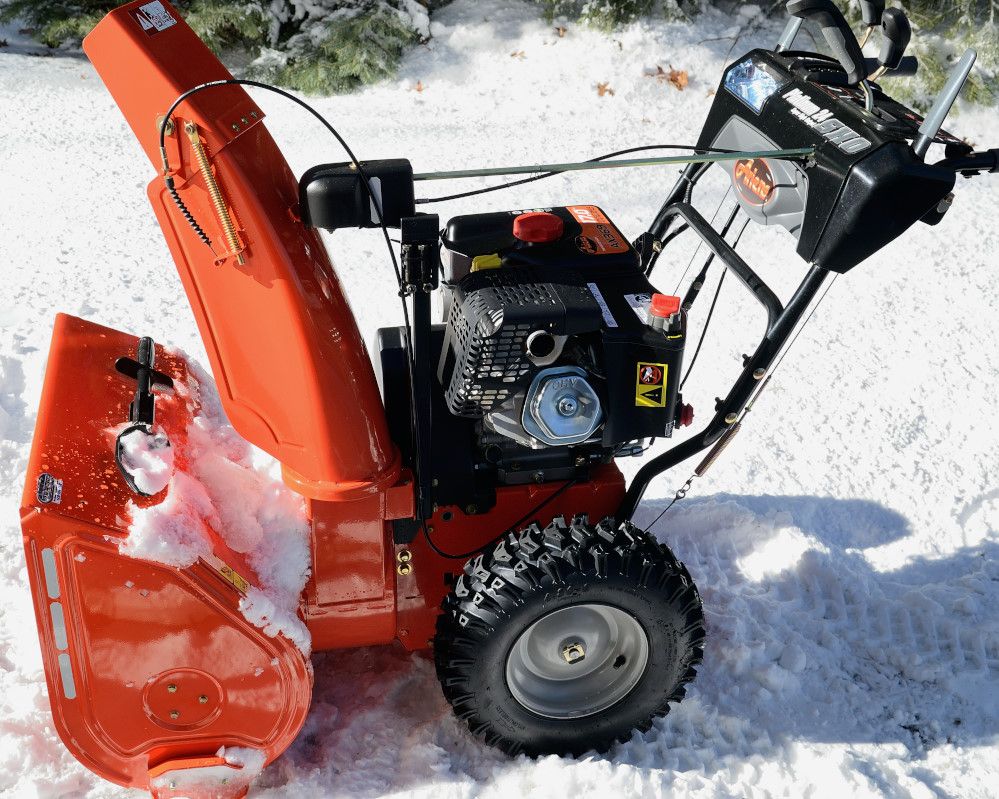 ---
2014 Ariens 21" Path Pro 938030
2015 Ariens 24" SHO 921038 | poly skids
---
Last edited by uberT; 01-25-2016 at

07:03 PM

.
Can't view your video. It says "This video is private." Probably need to change the privacy setting to "public"on YouTube.
That's strange, it's set to public which seems to be the default...
does your sho have the 369cc motor
---
current machines
1-toro2450E-38419. 1-toro3000E-38435. 1-toro 3650E-38445
2-toro 521E-38052. 1-toro xl824pt 38086
1-.............,TORO XL 624ps..............
1-............, TORO XL 824ps..............
william
Video ran fine this time.
Post Thanks / Like - 1 Thanks, 0 Likes, 0 Dislikes
uberT
thanked for this post
Quote:
does your sho have the 369cc motor
William, I believe that's correct. And it's rated at 17Ft*lbs.
I just spent some additional quality time with this machine this morning. The AutoTurn is brutal on this one. No idea why. I did the complete alignment process this past weekend and that hasn't improved a thing. I'm going to re-do the procedure.
The tall, skinny tires are awesome in terms of digging in and climbing the drive.
The town made several passes this morning. We're getting heavy, wet snow, right around 32F. They rolled up some large "snow balls" at end of drive, probably 2.5' in diameter. This machine slices right thru them
No fuss, no muss. I like that very much
Overall, this larger 369cc engine seems well matched to the machine. It can throw this heavy snow quite a distance.
Compared to my 28" machine, the gearing (in terms of forward and reverse speeds) is somewhat slower. OTOH, with the higher output and narrower bucket, I can move somewhat faster than I'm accustomed to. And, I find I don't need to overlap passes at all. The machine doesn't show any spill-over.
I don't like the chute directional adjustment they've integrated into the dashboard. It's very "floppy" and completely lacks the precision of the other style.
Again, this engine feels a good match for the type of snow we usually see. You won't be wanting for 'more power'. The engine didn't quite start on the first pull, but ran smoothly on the second. It's relatively quiet and certainly smooth running with minimal exhaust odor. I must have been out for 45 mins and didn't run out of gas
---
Last edited by uberT; 02-05-2016 at

10:57 AM

.
Nice video and I totally know where you're coming from on the chute control
---
Ariens 2015/2016 30" Platinum SHO #921040
Post Thanks / Like - 1 Thanks, 0 Likes, 0 Dislikes
uberT
thanked for this post
I'll be using mine for the second time later tonight also. First time there was only about 4-5" of snow, hit some big EOD piles and it cut right through! No issues with it at all, started on first pull but i did add more gas with ethanol shield. The place i bought it from back in October had put a little ethanol free gas probably like quarter of a tank.

I only have about half an hour on it, but the chute adjustment is kind of annoying i agree. It's something i can live with because the size and engine combination can't be beat!
---
2015 Ariens Platinum SHO 24" AX369 | 1995 Troy-Bilt 8/24 w/ Predator 420cc
Sounds like a pretty sweet machine
I have an older Ariens, a 1024 Pro, which is kind of along the same mindset of high power, narrow bucket. Mine is 24", with a 10 hp, 318cc OHV Tecumseh. So you have a newer engine design, and significantly larger displacement, for the same bucket width. Nice! That will be great for deep/heavy snow, especially EOD.
I believe your impeller (and augers?) spin faster than typical, so some of the extra power can be put to use processing the snow faster, and throwing it further, which is good.
Last season, my governor wasn't working as well as it should have, and my machine still did very well with our 2-foot storms. So I'm sure yours will churn through whatever you can throw at it. Enjoy!
On ground-speed, is the transmission adjusted properly? Is reverse faster than you're used to? If forward is slower than desired/expected, and reverse is faster, then perhaps the transmission isn't adjusted quite right. You can trade-off forward ground speed vs reverse ground speed. You might be able to speed up your forward settings, at the expense of making reverse slower, if that was useful.
---
Ariens 1024 Pro
Toro Power Clear 221QR
Toro Power Curve 1800