found a small ariens score
---
Have a friend who asked me to find him a small SB due to him tired of shoveling but only has a smaller drive so I started searching for a Toro 521 but just came across a ariens 420 for $50 that looks in good shape, says he couldn't get it started so hoping just a carb clean and it's good to go.
[IMG]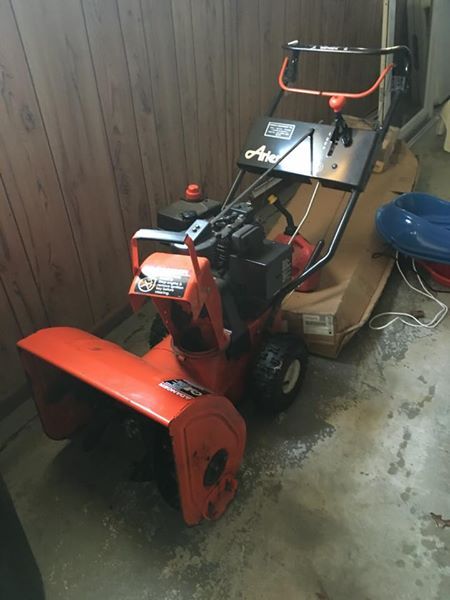 [/IMG]
[IMG]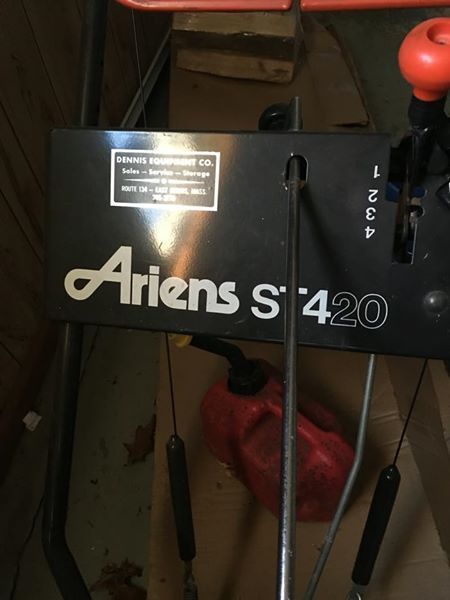 [/IMG]
looks pretty good but I would miss having reverse
---
current machines
1-toro2450E-38419. 1-toro3000E-38435. 1-toro 3650E-38445
2-toro 521E-38052. 1-toro xl824pt 38086
1-.............,TORO XL 624ps..............
1-............, TORO XL 824ps..............
william
Not a bad deal there. If I remember the reverse is on the other side of panel,
I have seen some 521 in are neck of woods and have seen them dressed in lawn-boy green color too
---
Scott
69 ariens
toro 721r
toro 926 hd oxe
78 powerking 1614/48'' haban snowblower
I've seen the lawn boy's also, one I tried to buy but the guy barely responded to texts, he put his number on the ad, talked with him and he said he's been busy as a plumber that he'll text me the next day but never heard back or respond to any text. Still has the ad up also, guess he with doesn't care if it sells or sold it but at least say something to a buyer who was really wanting it. Friend was willing to pay the price he was asking too.
Well picked it up, really nice condition, paint in very good condition but the pull cord was broke, got it home and changed the cord and had it back on the engine in 15 minutes, checked the plug and decided to put a new one in, a little starting fluid in the plug hole, turned on the gas expecting it to sputter out and it fired up first pull, and it just kept running yaaay lol carb def needs to be cleaned because when turning off choke it sputters and the needle (yes adjustable card) but it felt real gummy adjusting it, The drive cable was a bit loose so it didn't move forward too well so I'll be opening it up and making sure the friction disk is in good shape, but I think it was a steal for $50. Will get pics in the next few days, even all the labels are in good shape.
---
Last edited by Dauntae; 02-06-2017 at

06:58 PM

.
sounds like a good deal. I had a hard time getting the carb off of the 520 that I worked on recently, that is newer than the one you got but it purrs now with the new adjustable carb.
Well I went through the basic stuff, Changed the carb and cleaned the mouse nest out of the gearbox and adjusted everything and made sure it all worked, Almost no reverse so adjusted it but could go a little more, A friend is buying it from me so I let him take it now but will come back for me to go through it a lot more to make sure it's all good, He couldn't believe that this was the snow blower in the condition it's in for the price I got it for. Yes he is happy giving me some profit, Actually he is insisting on it, Well it still needs a good cleaning but it's now at it's new home waiting for that foot of snow to fall tomorrow and to see how well it works compared to my craftsman single stage I let him borrow last snow fall we got.
[IMG]
[/IMG]
That's a fantastic deal. I am so looking forward to blowing some snow tomorrow!
Only thing it needed other than time was the carb, even the electric start worked well, Seller had a sold sign on his house when I picked it up so I think he just wanted it gone.