Hello gang- Im still here..and my Frankenstein blower still running..
---
Just checking in (if anyone cares).. I've had so much going on last few years I haven't been around much. I lost my wife to her Cancer battle and I moved to a country home, ect. Im happy to say My modified Ariens, the one with the 20hp Honda on a 1978 Ariens is still running strong. I think it will outlast me. rarely do I ever need to go over 1/2 throttle..but do at times just for the engines sake. It has never plugged or ever given me any break-downs. That said- it surely will now! It really is awesome watching the rooster tail it makes. easy 50/60ft if not careful. I know old Die hard Ariens guys frown on someone altering a proven old Ariens but I did it for just some fun. I am an old (64.5 YO) Ariens guy and I would never do it to more than just the one. I've had most likely 15 or more Ariens over the years and kept most all of them stock (one other I did go 11hp Honda to be honest). I thought about dismantling the old girl but decided- I'll keep it and pass it onto my grandson. For you folks that started coming here less than few years ago.. The archives has many pics of it in building process. Can't say Im anxious for winter- But when it gets here I'm anxious to go another round at it.
---
Last edited by Geno; 08-06-2017 at

12:07 AM

.
Post Thanks / Like - 3 Thanks, 3 Likes, 0 Dislikes
Great to hear from you again Geno, sorry about your wife. Keep us in the loop as to your super blower. I want it to.
---
2014,TORO 1128 OXE Power Max HD
The coolest machine to grace the pages of snowblowerforum.
Thanks for checking in Geno.
A photo for those that haven't seen it.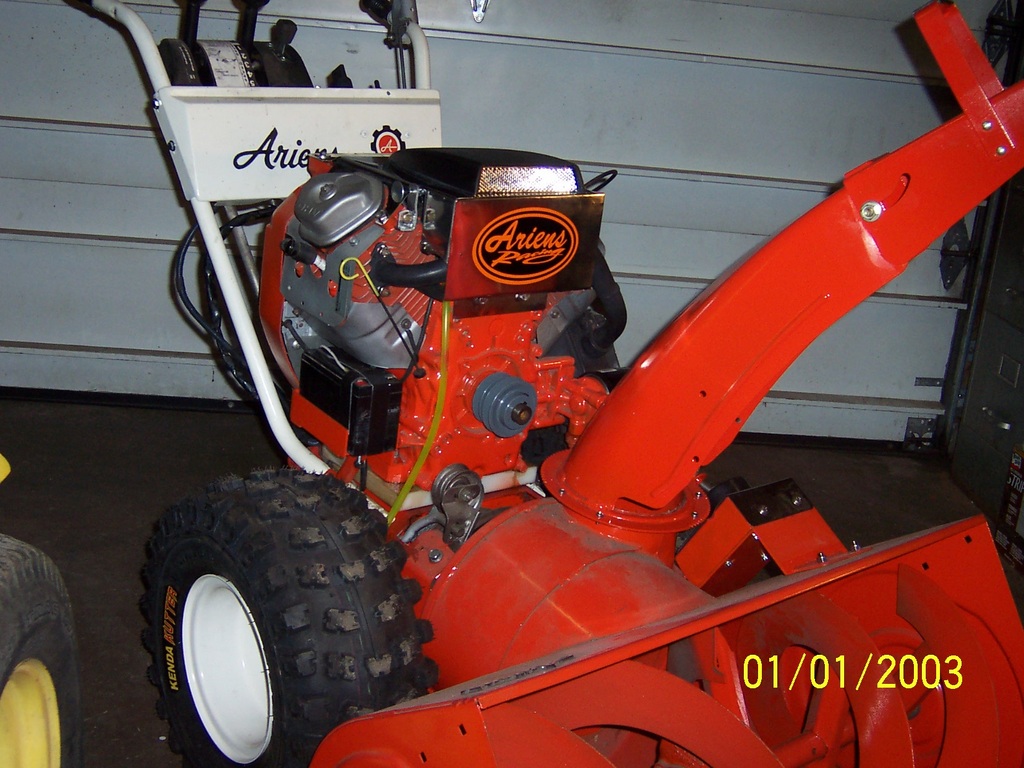 A few more photos
HERE.
Good to hear from you, Geno. I knew your wife was very sick and I'm sorry to hear of her passing. I hope you're doing ok and working thorugh this time.
That build of your old Ariens was epic. One of the very best ever to grace the pages of this forum. It is inspiring. I hope we hear from you often.
---
Joe
Sent from my wife's old Toshiba
Ariens 921001
Toro 38074- sold
Toro CCR 3650E-sold
Toro 5/21 sold
Ariens 5/22 ss
Ariens Sno Tek 7/24 sold.
Old green plastic snow shovel... Sent.to shovel Heaven
Old quarry shovel for ice.
New.green shovel
thanks all.. I'll be around for sure. more so when winter gets closer. Im not working on outdoor power equipment much other than when need too. I do play with a 18hp Howard Gem Rototiller some but old Ariens just sitting with dust on it. Will get her cleaned up soon. Been very busy with farm house doing changes and such. we'll talk soon. Geno
---
Good to see you back and know that you are doing good Geno.
Stay around.
You and your Ariens "franken-blower" have, are and will definitely be an inspiration for many forum members (and lurkers) including me.....
We will need a video of it in action on deep snow....
sorry to hear of your wife Geno....that blower is inspirational!
sorry for your loss geno but glad to see you here on SBF!!
---
current machines
1-toro2450E-38419. 1-toro3000E-38435. 1-toro 3650E-38445
2-toro 521E-38052. 1-toro xl824pt 38086
1-.............,TORO XL 624ps..............
1-............, TORO XL 824ps..............
william
Geno,

Sorry for your loss. Good to see you here again I hope to read more of your posts this fall / winter

Carl
Senior Member
Join Date: Nov 2016
Location: lake tahoe
Posts: 4,501
Post Thanks / Like
Geno

GREAT blower.

next thing you know , you'll be throwing on a Harley twin with a Sidewinder kit on it!!!!!!!
---
"It Feels Like Beer O'Clock "