Newer Ariens Auger Bushings
---
This is my third newer Ariens Auger bushing retrofit, so I thought I'd post up some pixx.
They do not have the 1/2 - 13 bolt on the auger shaft end and bronze bushings to hold it in place, but have flanges and plastic spiral bushings instead. They are not greasable, can only spray oil in there, dumb idea as every one I've worked on had the bushings worn out.
So I drill and tap two zerk fittings into the auger shaft flanges, so that they are greasable from the front of the machine. Also bore a hole in the bushing with an exacto knife, just to ensure grease can get distributed into and around the auger shaft. Use a knife or a pointed soldering iron to make hole, drilling cracks them easily.
Note of caution...... These flanges are HARDENED!!!
Use one drill size bigger than tap drill, lots of lube, 1/8 th turn on tap and back out carefully, then thread back in again. If you are not careful you WILL Break the tap, really hard material.
Just trying to make these newer ones just as good as the older ones. If I get another one I'm going to see about retrofitting a bronze bushing in there, like the older ones.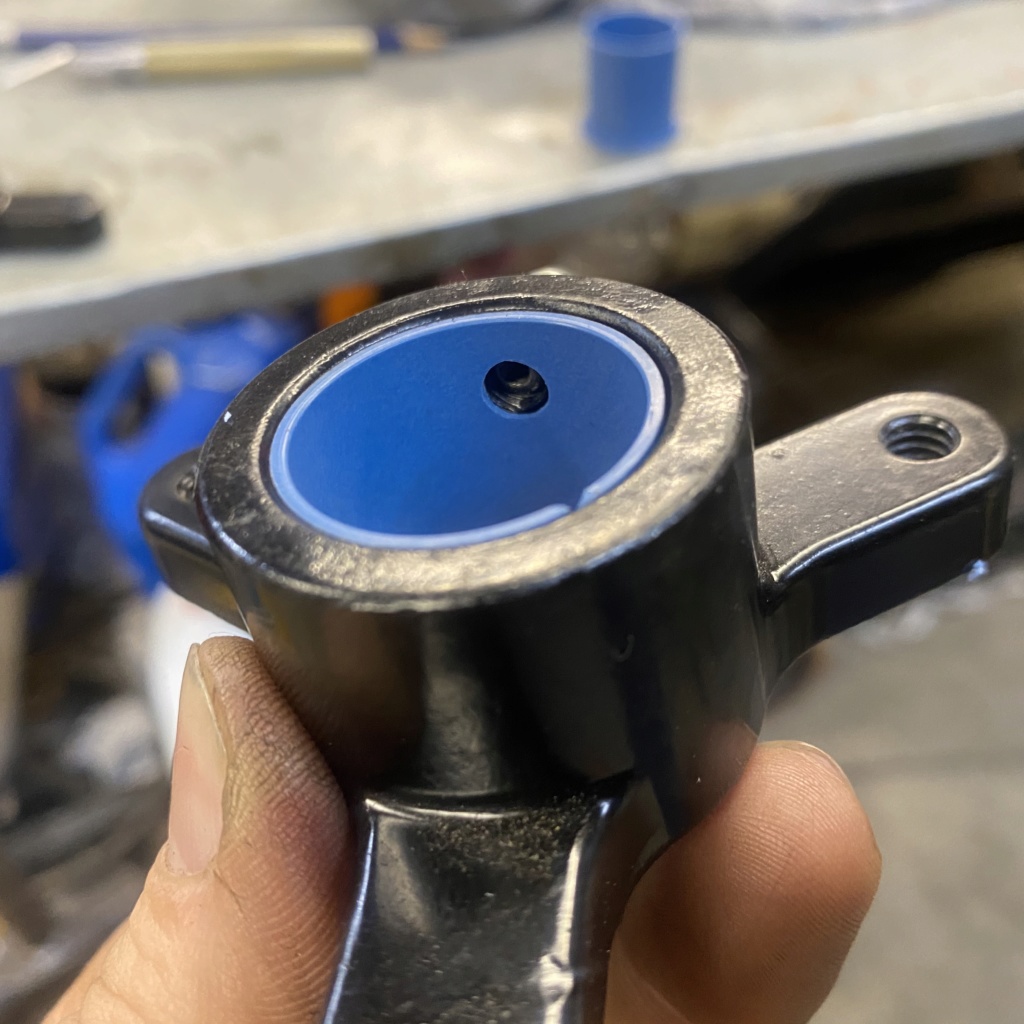 ---
Ariens 24" 910962 7HP
Ariens 24" 924117 Modified Pro 342cc / 15.50 GT.. Currently Under Construction and testing trials commenced .......
Ariens 32" 924044 Modified Pro 342cc / 16.50 GT
Ariens / Troy Bilt 36" Frankenblower 16HP
~~ And Lastly ~~
Ariens 28" 924??? Double auger & impeller 14HP v-twin BEAST !!!
Plans are being drafted, parts are accumulating in the pile......
I've done the same thing on wheel bushings on my Platinum 30 and on My 926LE. You will never have to change anything when doing this simple mod.
From the pictures and what you described, I'm guessing that they may be PM (powder metal) parts. PM is deceptive in that the apparent hardness (RA) is low because it is porous like a sponge, but the particle hardness (the interconnected material itself) can be in the RC 30 to 40 range. PM lends itself to this type of multi-level part and there would be minimal secondary machining besides drilling and tapping the three holes and honing or grinding the hole in the middle. What tells me it may be PM is the generous blend radii and the symmetry of the three "feet." Assemblers (like those who make snowblowers) like it because it is strong yet inexpensive.



The only thing that indicates it may be a casting is the lack of a chamfer on the top. Well, now I'm curious so I'll send a copy of one of your pics to a former colleague (and PM Guru) and report back.
---
2015 Ariens Deluxe 28
Previous Machines:
1995 Yard-White-Bilt 8/26 Frankenblower
1980 Toro 826
1981 Toro 3521
---
Ariens 1124DLE
(*sold:Ariens ST27LE)
(*sold: John Deere TRS21)
Toro 821
The Maestro has responded and in his opinion it is NOT a PM part. Radii are too large and after sending it to him, I noticed the lack of what are called pressing flats which facilitate ejecting the green part from the tool set.
---
2015 Ariens Deluxe 28
Previous Machines:
1995 Yard-White-Bilt 8/26 Frankenblower
1980 Toro 826
1981 Toro 3521
I see a LOT of the 3/4" Axle Bushings blown out. I have 3 units that need those Expensive NYLINER bushings. Cheapest I found the bushings is $10 and a week to get. So I'm going to try some mods.

A) Replace the NYLINER bushings and add the grease fitting, like Shaw did.
B) I'm reaming out the hub and pressing in a Bronze Bushings, then adding a grease fitting, like Shaw did
C) I ordered a pair of 3 bolt pillow block flange bearings, with grease fittings already installed. Those are $21 for the
pair and available tomorrow. Bolt pattern looks to be the same..... Drop in replacement.

D) I also noticed that I can get stamped steel flanged self centering bearings, with grease fittings. Same price, about a
week to get, similar to the old Toro impeller bearings. But they aren't as thick and not as heavy duty, and I do
not want to make a spacer to fill in the gap to the wheel.

I'm also going to get a set of 3 bolt pillow block bearings at 1" for the next auger shaft bushings that are blown out. Just seems crazy to pay $10 for a plastic bushing that is so delicate. Unless I buy volume.....but it's a 500 min order at $4 ea. That buys a lot of REAL Bearings.


Test results posted at a later date

Jay
Approximately how many hours are you guys getting out of those plastic bushings?

Sent from my LM-Q710.FG using Tapatalk
JayzAuto1: looking forward to your results. I don't have any Ariens machines (yet ??) but it appears to be a simple improvement over OEM design.
---
Paul
----------------------------------------------------------------
1995 Toro 724 with Predator 212cc, 1988 Toro 521
1980 Toro 421, 1995 Craftsman 524
1997 Toro CCR 2500 & 1994 Toro CCR Powerlite
I'm Sticking With Old School...
---
"Thank You Mr. Know it All!"