Sears 10/32 Repower
---
Picked up an older Sears 10/32 blower this past summer for $40. The e older Tec hmsk100 was missing the carb.
Grabbed a china clone carb off ebay for $20 and got it running, first snowfall I quickly discovered this engine was worn and tired. I opened it up and found the exhaust valve was worn about 0.100" out of adjustment. So I got a new valve, and set the lash to factory spec, honed the cylinder and replaced the rings. It brought it back to life. But I've found these L-Head Tecs to be a bit finicky, and was still laking in power, and just wasn't throwing the snow like I wanted it to.
Fast forward to this week. I got my monthly Princess Auto flyer and saw they had a 13hp 389cc Powerfist Engine with electric start on sale. The "bigger has to be better" mentality most guys have took over, and I walked out the door with it for $307 s I got the display model discount.
389cc OHV Gas Engine with Electric Start | Princess Auto
Looks simmilar to the HarbourFrieght Predator engines.
Its runs very smooth, a fair bit quieter than the tec, and started first pull out of the box. Like about 1/2 choke in the cold weather. I believe its jetted for summer temps.
After removing the Tec and the 1" base it was sitting on I got the new 13hp positioned and it turns out with the base off, the CL of the new engine was within an 1/8" of the factory height. Great news for me, I can use the original size belts. The belt gaurd even fits without any modification. I just had to use to 1" id washers to get the pulleys aligned. I had to drill two new holes in the blower frame for the new engine, two of the existing holes were in the right spot already.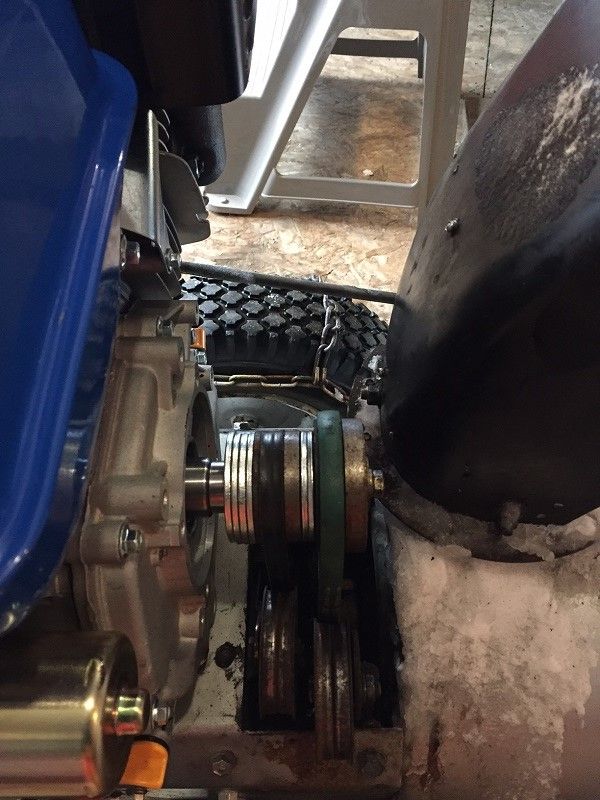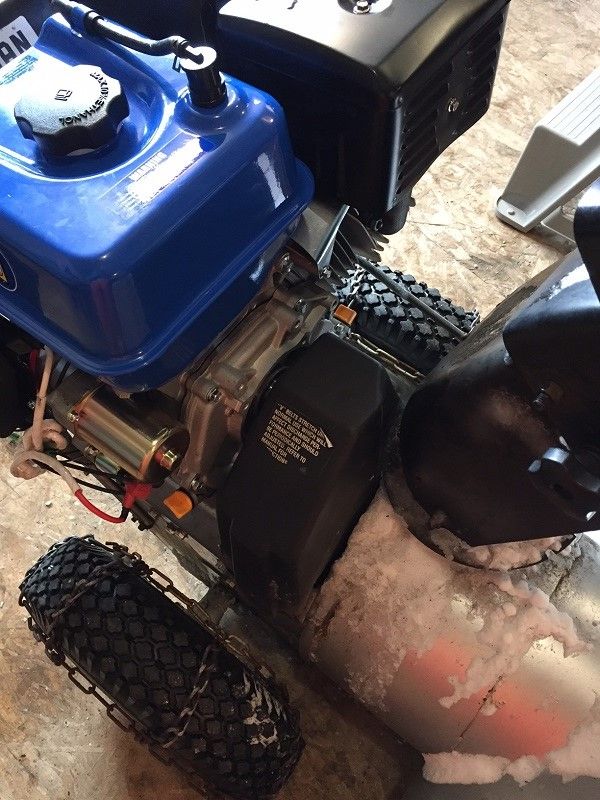 The chute rod needed to be moved to clear the valve cover, it sits lower than I'd like it to, so I might see about getting a u-joint and make some brackets to get it in a better position.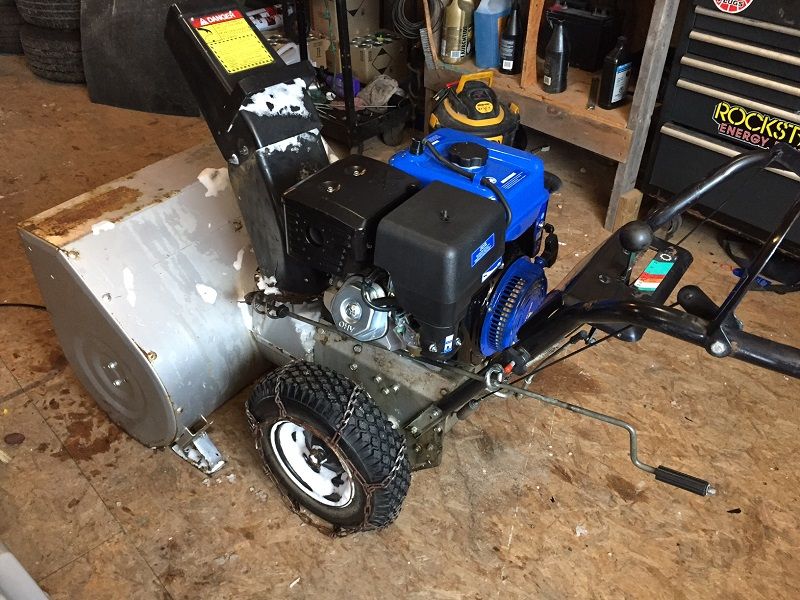 The swap went quite smoothly and was completed in a few hours. Expecting ~ 8" of snow this eve. Cant wait to see how it performs.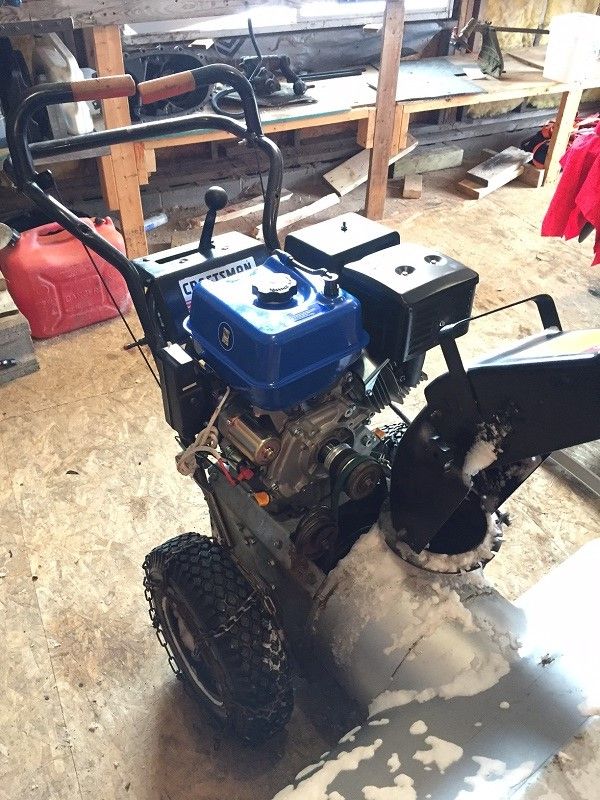 Post Thanks / Like - 0 Thanks, 1 Likes, 0 Dislikes
detdrbuzzard
liked this post
you can pull off the carb bowl and remove the main jet. use micro drill bits and drill in tiny increments so it will run off choke without surging. that is what i had to do with the predator 420cc on my 924044
Thats the plan, I just dont have any micro drill bits. Ill have to shop around and get a set.
New motor works great. My old sears machine throws snow a good 40' or better. Ran into one issue, the gov and carb linkage froze up on me. As its a summer engine is lacks the covers that a snowblower engine would normally have.
So, I grabbed a beer and starred at it for a bit and came up with a plan.
Heres the $20 hand brake I made.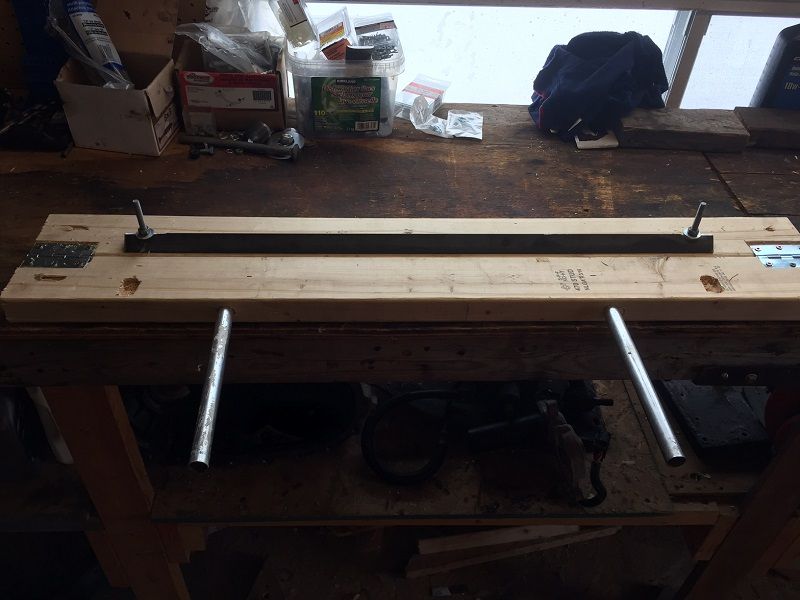 I got to work some some cardboard and made some templates then transferred to aluminum sheet I found at the hardware store. This is my first time doing any kind of sheet metal work, but I'm quite happy with how it turned out. Its snowing out there again so I will find out this eve if my shields are up to the task.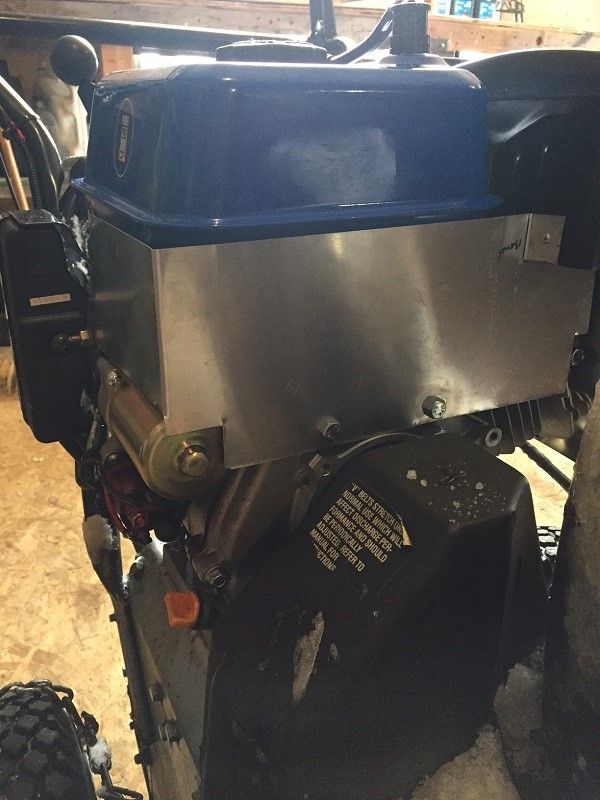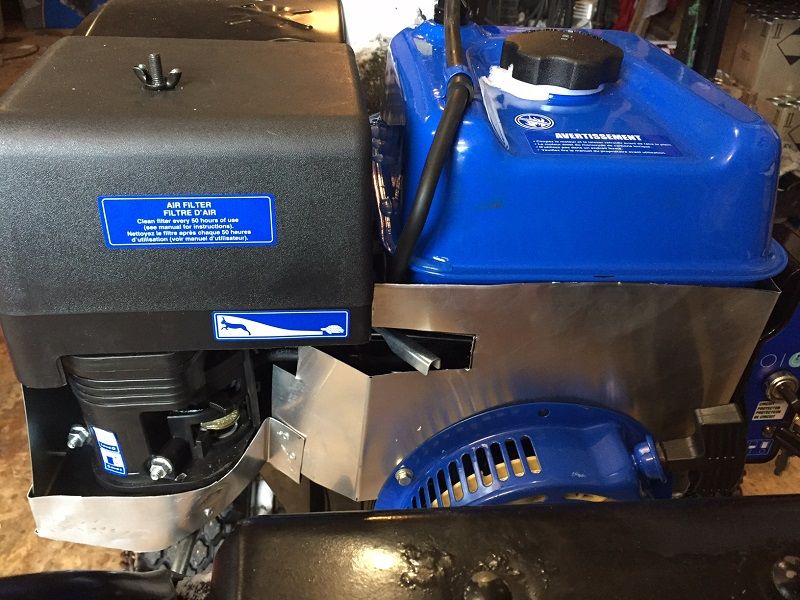 Post Thanks / Like - 0 Thanks, 1 Likes, 0 Dislikes
detdrbuzzard
liked this post
now paint all the sheet metal black or blue so it will look original
---
current machines
1-toro2450E-38419. 1-toro3000E-38435. 1-toro 3650E-38445
2-toro 521E-38052. 1-toro xl824pt 38086
1-.............,TORO XL 624ps..............
1-............, TORO XL 824ps..............
william