Ya it has a HEMI on it.
---
Picked this up on the side of the road a couple years ago. Figured if I could not fix it the scrap was worth a good bit as it is heavy and mostly steel.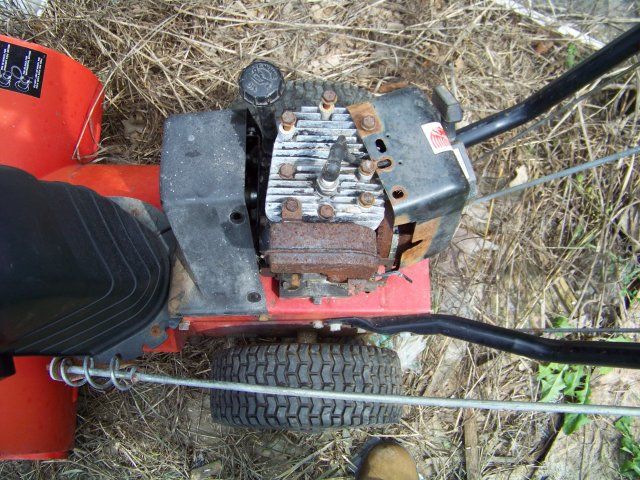 Yes this was the condition of the engine shroud missing the carb and maybe a few other parts too. the engine did turn over and since the head was loose I peeked in side and the valves looked to be OK.
I have a friend who makes a living repairing small engines lawn mowers lawn tractors and snow blowers. I call him and ask about the missing parts, he tells me he has none and TEC. has folded so most of the scrap engines he gets is to full fill his needs best to shop for a used engine.
I put this blower on the far back burner watching and waiting for parts to repair it. Finally this spring I decided parts were not to be had so just invest in a new motor and for the value it was going to be a Harbor Freight Predator engine. The first motor I bought I decided to put on my log splitter and it really worked great on that application.
Went back and got another one two weeks later for the snow blower, this one the Hemi head version.
Cleared off the old engine matched up the crank shafts to see if stock belts would work.
Had to file the slag out of the mounting bolt holes so the 3/8 inch bolts would slide in freely. But that is all that was required to get it set properly on the deck. I also decided to install new belts so I would not have to do so at 30 below zero.
Note the cast alum valve cover the tell tale sign it is indeed the hemi.
I did have to lower the chute rotation crank to clear the valve cover too about 5 inches. I feel it is to low so will buy a universal joint and weld in place to reroute the crank and still clear the valve cover. and raise it up to a more user friendly position.
Got the chute off and drilled the impeller for the rubber clearance kit I am going to install.
I kept worrying about the tires as they are all weather checked and cracked. Bought 2 new ones yesterday to install on it.
Al
Post Thanks / Like - 0 Thanks, 1 Likes, 0 Dislikes
43128
liked this post
Did you get X-TRACKS or SNOW-HOG tires for it?
Those are the best 2 that you can get to use it with no chains on the tires.
---
For small roto tillers I believe. Minus the rims too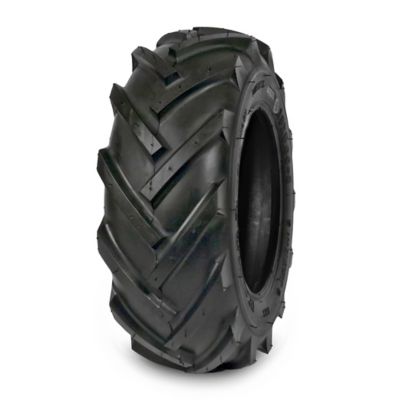 Al
My understanding is that they do not work that good on snow, I have seen them installed on a few honda snowblowers and there is were I read the negative feed back.
If you loose traction you may have to add chains to them.
X-TRAC are the best to my knowledge.
Super Moderator
Join Date: Nov 2013
Location: Hudson, WI
Posts: 9,857
Post Thanks / Like
Nice job.
---
.
Make sure the windows are up before the snow plow goes by !!

Please help keep the lights on by subscribing:
To view links or images in signatures your post count must be 10 or greater. You currently have 0 posts.

---
Finally did all the finishingtouches Tuesday morning. Now I know we won't get any snow this winter.
I had these 3/8 drive impact U joints in my tool box never being used in 20 some years. Well they are being used now on the chute crank rod.
Got the new tires on and aired to 7 PSI.
The before crack of the impeller in the houseing.
Closed the gap up some
Al
Old MTD's were good machines, I had a 640F from the mid nineties and it served me well for almost 20 years and still ran well when I sold it.

Nice job, good luck with it!
Im confused about the "Hemi" reference. Its an overhead valve engine. Has nothing to do whether its a hemispherical combustion chamber or not
Quote:
Im confused about the "Hemi" reference. Its an overhead valve engine. Has nothing to do whether its a hemispherical combustion chamber or not
The Harbor Freight 212 cc Honda clone comes in a few variants.
https://www.ombwarehouse.com/Perform...c-Racing-Parts