Need help identifying a craftsman snowblower part
---
I picked up a craftsman snowblower for short money this summer. Had a couple of issues when I picked it up, otherwise in really good shape.
The problem I need help with is that the auger belt falls off when not engaged. I think there's a piece of sheet metal or bracket that holds the belt on the pulley when disengaged, and the previous owner somehow either broke or lost this part. He fashioned some kind of sheet metal bracket which obviously doesn't work.
Can you help me identify the part I need? It's an 8.5 hp tecumseh motor in a canadian craftsman snowblower. I've attached a couple of pictures for reference. Frankly I'm not even sure if he put the right belt on. ANybody know the size?
Thanks a bunch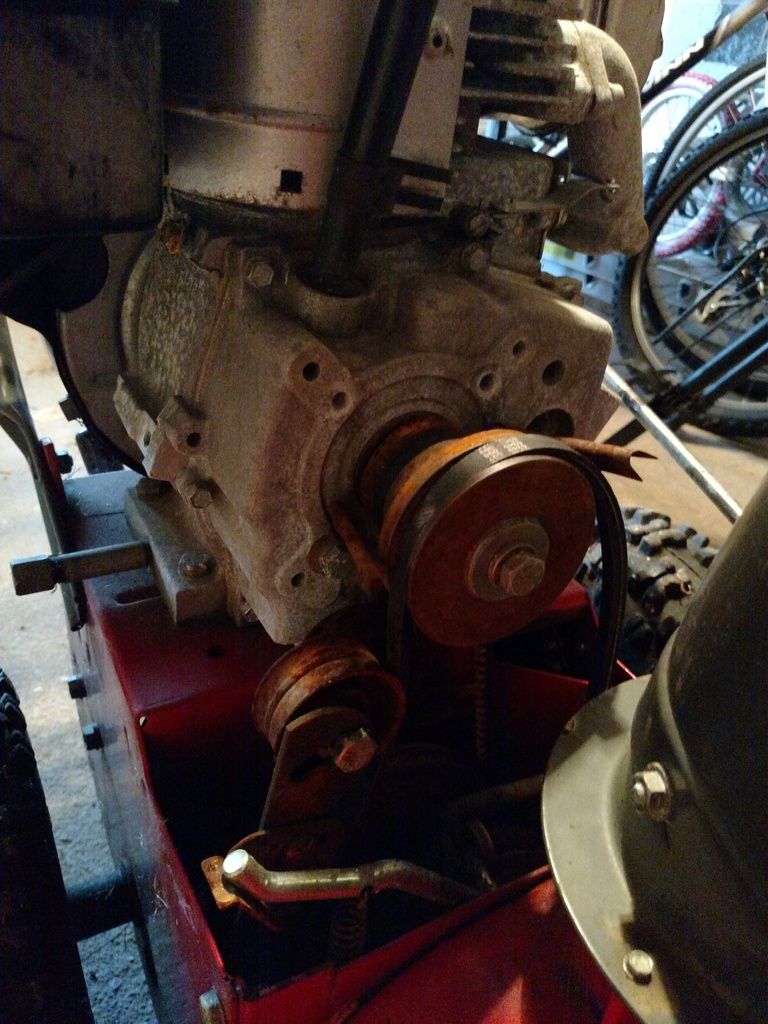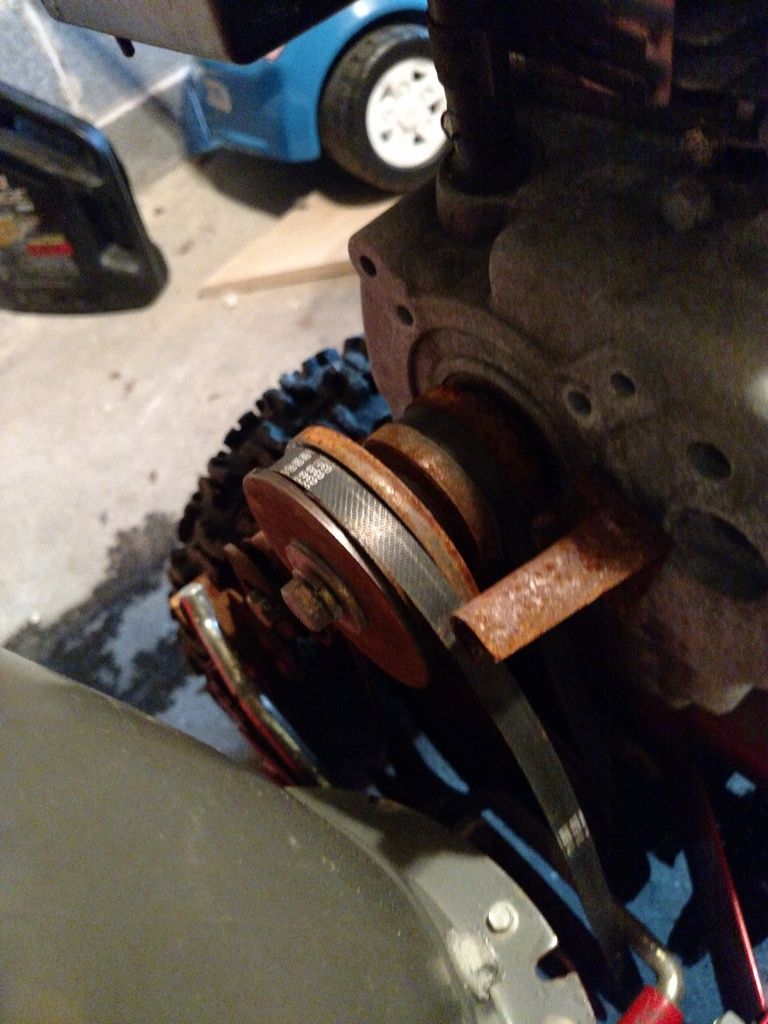 killerfomula. The part missing is called a belt keeper and looks like the picture below. You could buy them using your engine numbers at most any small engine shop or online. You could also make your own out of any round stock that's measures around 1/8" (3mm?).
Sorry about the missing photo.
---
Toro 8/24 (38080) 1989
Toro 721-QZR (38743) 2015 (Hemi Predator Power)
Toro (51984) Hand Held Blower (For the light stuff)

Experience is something you don't get until just after you need it.
---
Last edited by Grunt; 10-25-2015 at

11:17 AM

.
I'm not seeing a picture in Grunts post. Here is a photo of mine. Completely different machine, but you get the idea.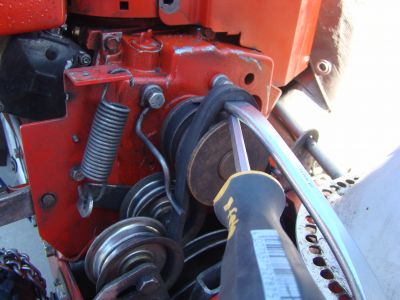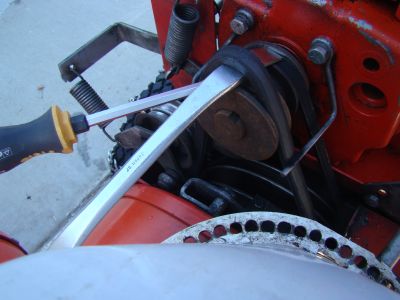 note: Ignore the prybar in these photos. I was trying to show another member with the exact same machine just how much slack I had in my belt as his would not stop driving the auger when released and he wondered if he needed a longer belt.
---
Last edited by dbert; 10-11-2015 at

10:10 PM

.
Post Thanks / Like - 0 Thanks, 1 Likes, 0 Dislikes
A lot of older Craftsman snow throwers were made by Murray & MTD, but this one kind of looks like it was made by Noma (which was bought out by Murray).
Grunt is right. It's missing a belt keeper. Sometimes it's something so small that will ruin everything. I would try something that looks like this:
Something like this is Murray part number 3949MA and should work. It can be purchased from any Briggs & Stratton dealer for around 5 bucks or less.
Post Thanks / Like - 0 Thanks, 1 Likes, 0 Dislikes
Super Moderator
Join Date: Nov 2013
Location: Hudson, WI
Posts: 9,847
Post Thanks / Like
Welcome to the forum
You might also want to check the belt to make sure it's the right one for your machine and adjust the tensioner if you haven't yet.
That keeper is important but so is keeping the correct amount of slack without it becoming excessive.
---
.
Make sure the windows are up before the snow plow goes by !!

Please help keep the lights on by subscribing:
To view links or images in signatures your post count must be 10 or greater. You currently have 0 posts.

Check with Sears Canada and see if you can get a manual for that machine. They found one for me on a 24 year old unit with an 8HP Tecumseh engine. That belt seems to have a lot of slack, Im guessing it was changed with whatever was around, and is not the right one for that unit, or it is so stretched that its way out of spec. The manual will have part numbers for both the belts, and the keeper.
---
Last edited by Kiss4aFrog; 10-18-2015 at

02:36 PM

. Reason: Removed duplicate photos
I've made a bunch of belt keepers over the years. You need a piece of 1/4" steel rod, some tools and a hot torch and a bolt to bend it around. I made up a little jig I can clamp down to bend it around and a mapp torch is hot enough to bend the rod easily.

I've attached some pictures, hopefully it will make sense.
Post Thanks / Like - 0 Thanks, 1 Likes, 0 Dislikes