My 1978 Yardman Snowbird 31600-9: Problem #1, tires & wheels
---
This is my first post after my intro message of yesterday morning.
https://www.snowblowerforum.com/forum...tml#post776690
The
1978 Yardman Snowbird 31600-9
that was my dad's machine, is in
serious need of tires
. Mechanically the snowblower performs well given its age, but after 35-40 years of use, the narrow tractor tread pattern solid rubber tires on the machine are pretty much toast. For all practical purposes they are slicks and offer little in the way of traction when the going gets a little dicey, particularly in wet, slushy snow. If it wasn't for the substantial machine weight, I likely would not be able to use the machine in most winter weather situations that required serious user involvement.
Yesterday while performing some neglected and needed routine maintenance prior to "the season" beginning (at least here so far), I was reminded of the dire state of the tires. They are solid tires, of narrow width, and small diameter by today's standards. You don't see these anymore....they are anomalies of the past. I was alerted I need to find a solution to this problem. Mucho pronto.
The tire markings state "3.50 x 6". The Yardman owners manual describes the tire as "12.5 x 3.50",
part # 734-0829
. Pictured below is the Yardman tire/wheel in relation to my Toro 826 LE tire/wheel. The Toro (Carlisle) tire markings are 15 x 5.00 - 6NHSS. The view is the inside of the Yardman Snowbird tire/wheel.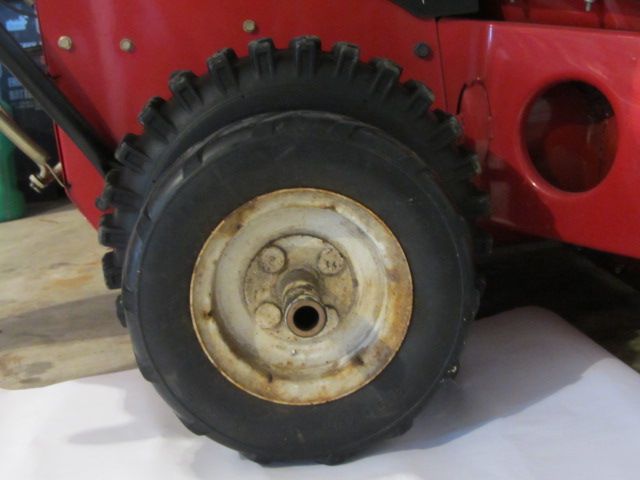 Yardman Snowbird wheel & tire looking down:
Original tire and size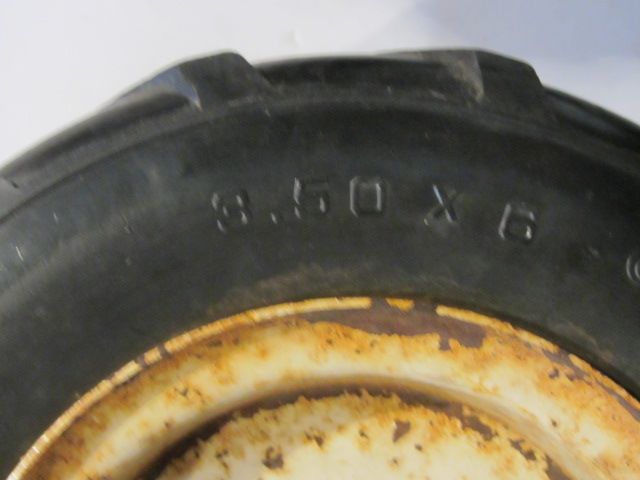 So my thought was I was dealing with a split rim wheel situation, i.e. unbolt the hub from the wheel and I would have TWO wheel halves to deal with. A reasonable assumption given what I was observing.....but incorrect.
I decided to remove the bolts from the wheel hub on the OEM wheel, thinking removing the hub would reveal two (2) halves of the wheel......i.e. a split rim auto/truck type application.
I thought when I removed the bolted hub from what I thought were wheel hubs halves, the tire would be free of the assembly.
Answer: WRONG!!!
NO GO.
What I found was an assembly I'm not sure how was accomplished in a manufacturing environment, and certainly not logical or practical, from a repair perspective.
Inside of Yardman wheel:
Outside of Yardman wheel:
tire/wheel assembly with axle hub removed: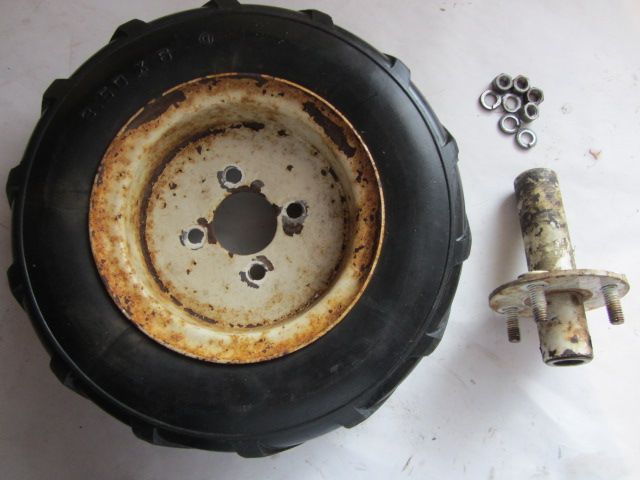 Unfortunately, it appears I'm dealing with something that cannot be repaired.
If I can't get the tire off the wheel, then do I have any other options???
I have no idea how this was manufactured. If the tire was hard, solid, not particularly pliable, how would it have been made and installed on the wheel???
First thought was one side of the wheel assembly was already bolted to the hub assembly. the tire was then applied and a pressing operation was initiated to bend and form the other rim half to conform to the solid rubber tire.
I imagine lot of heat and pressure was applied to the opposite side of the wheel and tire and the all that was pressed together and formed.
If that was the case, good luck 40 years down the line replacing the tire.......if you can even locate the right size. No luck there, so far.
Note the significant crimps (dimples) on the interior wheel rim. Likely done to lock everything in place, never to be removed again.
So, it would appear the immediate solution would be to find pneumatic tires and wheels of the same or similar dimensions. I had previously thought if I could split the wheel halves, I could adapt a pneumatic tire with aggressive thread pattern of the same approximate dimensions and fill it with expanding foam, bolt the wheel halves back together, and I would be in business. Looks like that isn't going to happen with these wheels.
So, I'm looking for suggestions to keep my "old iron" functioning in a reasonable fashion.
I'm open to any and all thoughts......
What say all of you???
Regards,
Steve
---
2003 Toro 826 LE Power Max
1978 Yardman Snowbird 31600-9 (5hp x 24")

* Don't worry about the world coming to an end today. It's already tomorrow in Australia !
---
Last edited by ztnoo; 12-03-2015 at

10:24 AM

.
Post Thanks / Like - 1 Thanks, 1 Likes, 0 Dislikes
Eyeboltman
thanked for this post
Eyeboltman
liked this post
Super Moderator
Join Date: Nov 2013
Location: Hudson, WI
Posts: 9,847
Post Thanks / Like
Wow, those really are slicks !!

Might be time to try and find some wheels and tires from a machine with the same size axle and adapt to your machine.
Hopefully someone on here has done it and can give you an idea of what might be an easy fit.
---
.
Make sure the windows are up before the snow plow goes by !!

Please help keep the lights on by subscribing:
To view links or images in signatures your post count must be 10 or greater. You currently have 0 posts.

Welcome to SBF.
These tires look like they might fit:
Remains to figure out a few things, aye... No way those wheel halves are coming apart? Maybe if you got the old tires off somehow, a sawzall comes to mind... maybe then you could see better how they are built.
Hmm...
---
☮
To view links or images in signatures your post count must be 10 or greater. You currently have 0 posts.
☮
Replacement wheels & tires
---
So it looks like I need to find wheels and tires of the same rough dimensions to maintain to original relationships and heights as much as possible. I believe a pneumatic tire is really the only solution which would allow for repair and replacement in the future.
In the short time I have looked, it appears all modern wheels for pneumatic tires have an integrated hub which is not separate and removable. Unless someone can think of a machine that might have removable, 4 bolt hubs and wheels, I need to know what might be some choices I might have.
Shown below is the hub removed from the wheel. The length of the hub tube is 5 5/8". The outside setback to the wheel center is 1 3/4" and the inside setback is 3 11/16" . The klick pin hole is 1/4" and is set in 3/8".
Inside hub diameter is 3/4"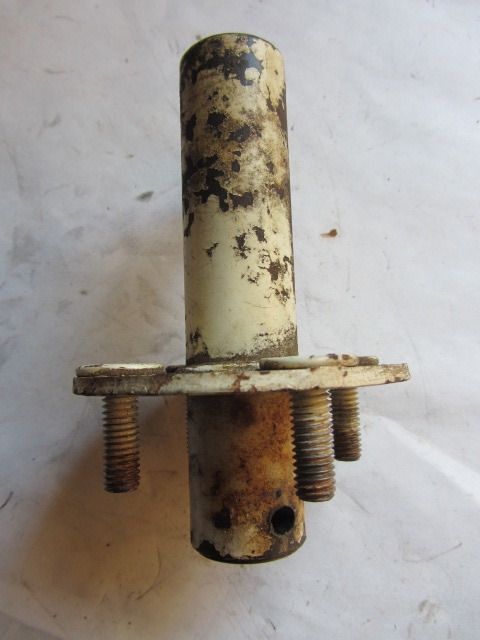 A used or new pneumatic tire/wheel hub units could be no longer than the current 5 5/8" hub to be able to be installed on my drive axle. A wheel with a shorter hub length could be made to work with spacers, if necessary.
So basically to simplify everything, here's what I think I need and what I think will work for me to maintain the approximate original heights and relationships on my Yardman Snowbird.
Tire diameter: 12 1/2" - 13"
Tire width: 3 1/2" (4.10 would work, I believe)
Wheel diameter: 6" +-
Total hub width not exceeding 5 5/8"
Inside hub diameter: 3/4"
Klink pin hole size: 1/4"
Surely there has to be someone here on the site that has encountered similar problems in the past with older snowblowers with solid tires that were shot. What solutions did you come up with?
Also, if anyone here suspects their machine or machines has tires/wheels with the approximate dimensions I have given, would you take a moment and measure and reply here and say what machine you have so that I have a starting place for something known in my search?
My preference would be to buy used tires and wheels. My preference would be for a Snow Hog type tire tread rather than the tractor tread pattern this machine was equipped with originally.
So if any of you Gentlemen have specific and extensive knowledge, experience, and background in wheels and tires for snowblowers, I would very much appreciate it if you would chime in with your 2 cents worth.
Regards,
Steve
---
2003 Toro 826 LE Power Max
1978 Yardman Snowbird 31600-9 (5hp x 24")

* Don't worry about the world coming to an end today. It's already tomorrow in Australia !
Yanmar Ronin,
I had actually looked at those tires you point out. Of course, that was when I was still thinking I had wheels which were spilt rims and would come apart. Such is not the case. The outer rim appears to be all extruded and blends into to the hub mount center. The back side rim appears to have been welded to that assembly......but there in no way this splits open and comes apart.

I think the only way you could get a pneumatic tire to work (filled with cured expanding foam, then bolted together) is if the wheel came apart in halves. It doesn't. Even if I would cut the solid tire off, I see no practical way of getting such a pneumatic tire mounted in such a way that it would be tight on the rim and not slip.

It's one of the craziest tire/wheel arrangements I've ever seen. Certainly no thought was given to future tire replacement. I'm sure the idea was just sell a new tire/wheel assembly. That's not workable or available nearly 38 years later.
---
2003 Toro 826 LE Power Max
1978 Yardman Snowbird 31600-9 (5hp x 24")

* Don't worry about the world coming to an end today. It's already tomorrow in Australia !
Post Thanks / Like - 1 Thanks, 0 Likes, 0 Dislikes
ztnoo
thanked for this post
---
Toro 8/24 (38080) 1989
Toro 721-QZR (38743) 2015 (Hemi Predator Power)
Toro (51984) Hand Held Blower (For the light stuff)

Experience is something you don't get until just after you need it.
---
Last edited by Grunt; 02-29-2020 at

03:43 PM

.
I would search for something like these on eBay and re-drill the hub as necessary to accept your lug pattern (they may match right up). Then you can put on a new set of tires down the road of you want. I love the x-tracs, put them on an old Ariens and I hardly need to lock the differential anymore.
Set of 2 Ariens Snowblower Rims Wheels Tires 4 80 8 Comes with Tire Chains | eBay
These are priced a little high for my taste, but if you are patient a cheap pair will surely come along soon.
---
Ray
1962 Ariens 10ML60
1979 Toro 524
1975 MTD Snowflite 4/22
Senior Member
Join Date: Mar 2015
Location: nova scotia-south shore - ave annual snowfall 199.4 cm ( 78.5 ")
Posts: 2,410
Post Thanks / Like
get a box or two of sheet metal screws and stud what you have. jmo
---
24 " 1967? Ariens Sno thro
28 " Ariens Sno Tek
Toro CCR ss
1966 Gravely LI Walk behind with dog eater

To view links or images in signatures your post count must be 10 or greater. You currently have 0 posts.
I am thinking an old set of ariens wheel and tires would work. measure stud to stud . A lot of the wheels are same for many brands
---
Scott
69 ariens
toro 721r
toro 926 hd oxe
78 powerking 1614/48'' haban snowblower