Looking for transaxle gears from Foote 36 and Foote 39 models (Snow Shark), SOLUTION!
---
Hello everyone,

(editing to add information so that this moved thread has a chance of making sense here)
Snow Shark snowblowers from the mid-sixties to about the mid seventies, along with some other machines, may have been equipped with either a Foote 36 (two speeds forward, N, two reverse) or Foote 39 (one forward, N, reverse) gearbox (transaxle).
I am looking for transaxle gears from Foote 36 and Foote 39 models:

-1118 (17 T. spur gear)
-1175 (17 T. spur gear)

Or, the transaxles as a whole functioning, or non-functioning, for parts.

May also be looking at changing speeds a bit, so also interested in the 3280 gear (13 T. spur gear) from those models, and then larger gears from other Foote transaxles that may fit the same diameter shafts.

Any help much appreciated!
---
Last edited by Gandalf; 08-24-2016 at

01:13 PM

.
I watch Ebay for other Foote items and do see trans-axles and multi speed boxes from time to time.
Why don't you send these guys an email and tell them that you are in the market for those particular Foote Transmission parts? The company is called "Save From The Scrap" and they do a pick-n-pull on snowblowers etc. before they send the carcass off to the scrapyard. They also buyout repair centers that have gone out of business etc.. They are based out of Wisconsin.
They actually have a Peerless Transmission section but not a Foote Transmission section. Still worth a try....
Link:
Peerless Transmission Parts
---
Last edited by toroused; 08-15-2016 at

09:43 PM

.
Post Thanks / Like - 0 Thanks, 1 Likes, 0 Dislikes
Gandalf
liked this post
Thanks for the link,
They only ship to the US though, but may be worth information anyway.

I may have come up with my own solution though, heavy-duty too, I got so frustrated trying to buy broken snowblowers at full asking price if they would only take the time to pull the gearbox for me and ship it (I offered shipping too of course)...
Will test it out this next bit.

What is a good commonly available grease to chuck back into these?
I did some research, and found out from Shell the replacement grease is:

Shell Gadus S2 V220 0 lithium-based grease,

But, since I have transformed my Snow Shark into a concrete mixer, the temperatures which the unit sees are well above zero (the original "0" NLGI rating is quite soft to remain usable in winter temps)... Speaking with shell reps, they recommended a 1 or 2 for the gearbox in warm weather. I went with 1.
So,
Shell Gadus S2 V220 1

And, I had to buy a case of the stuff... that's enough for 20 Foote 39 gearboxes.

More to come...
I ordered some 25mm-thick 17-tooth (17T) gears with tool-able centers, and had my machine shop CNC one of them into a heavy-duty 1175 Foote 17T gear (the teeth were stripped completely off the original on the right, thanks to the chain catching on a protruding bolt):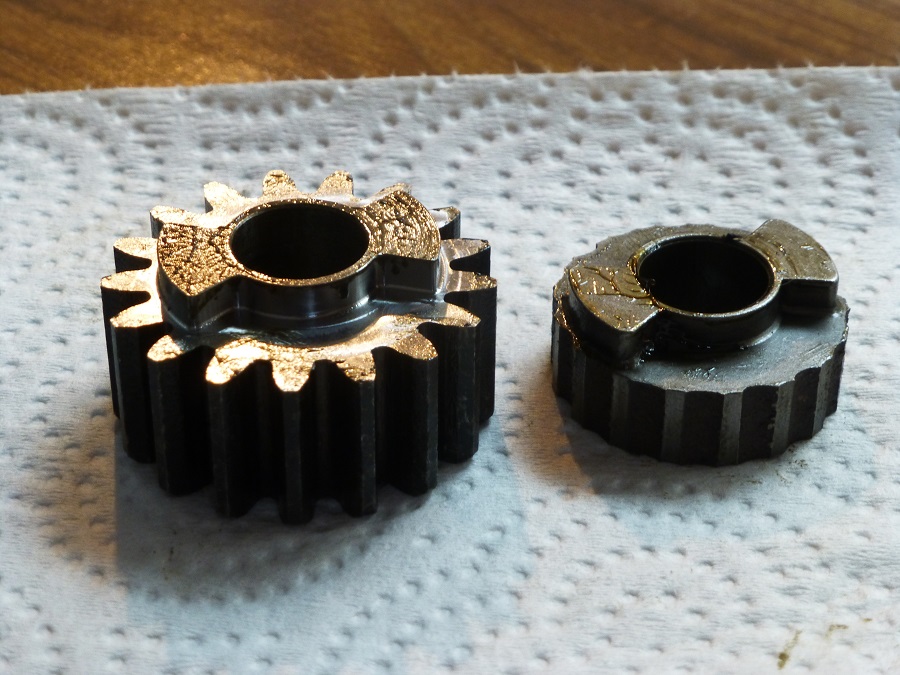 Then I had another 25mm gear CNC'd into a heavy-duty Foote 1118 17T gear, seen here near the top of the shaft, with the two ordinary 1118 gears visible below it, in position: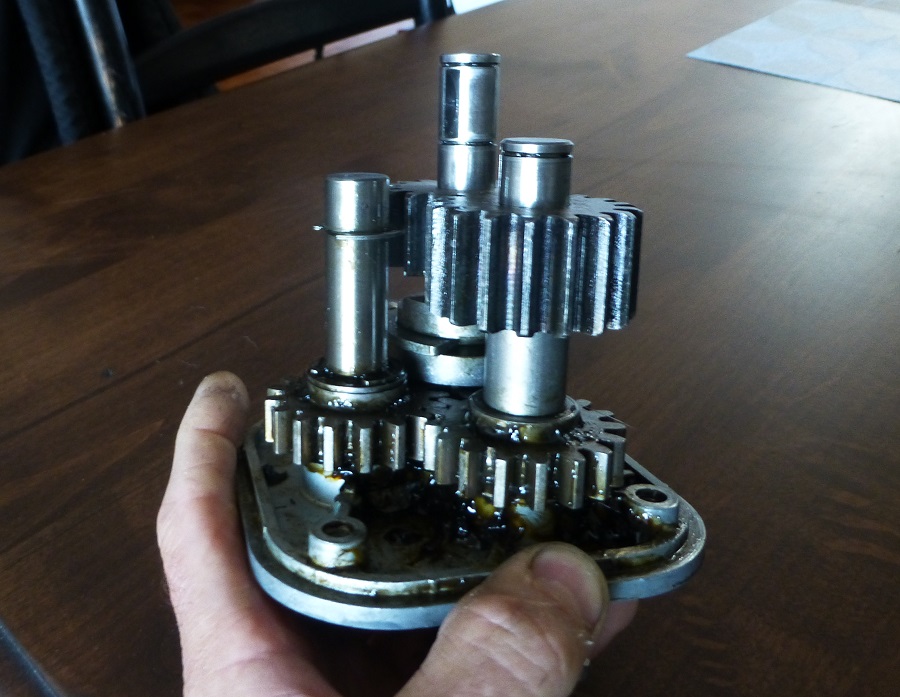 Then I had the housing modified, the bosses for the shafts ground down to accept the thicker gears, and the bushings pressed further through: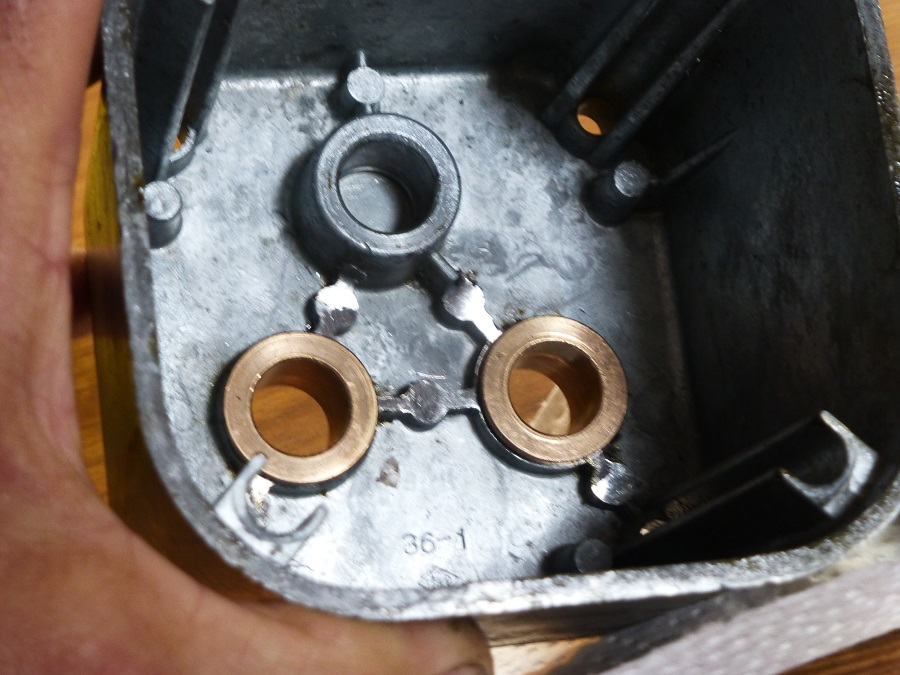 And then the bushings protruding just need to be ground to sit flush with the outside of the gear casing to allow the C-clips to slip onto the shafts outside (yet to be completed in this pic):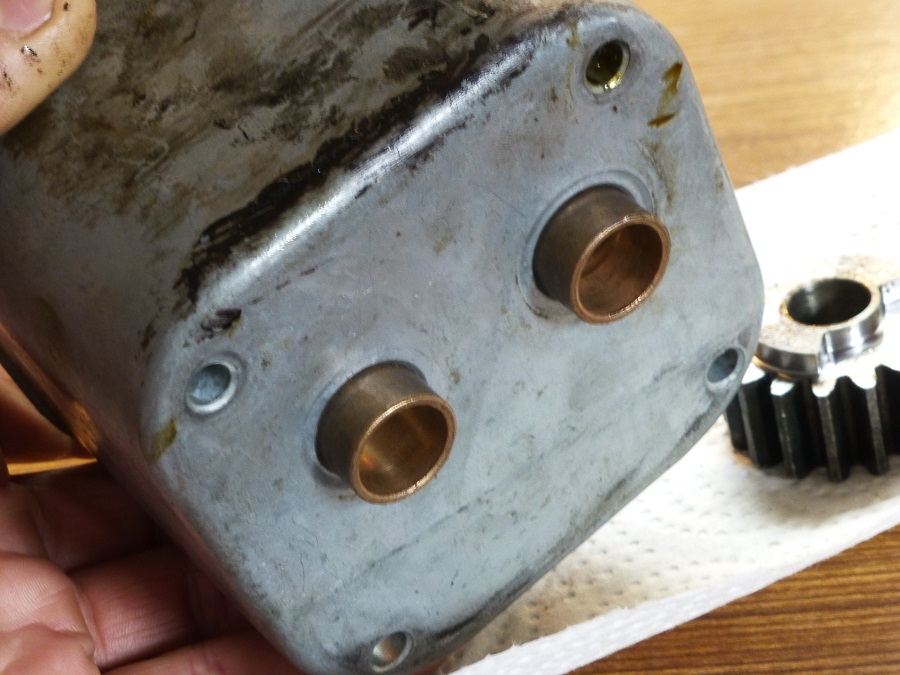 Yes I could have made the gears identical to the originals, but since my application is more demanding, I thought it to be the same amount of trouble/work to make them tougher... yes the woodruff keys will still be the weak links probably.
Super Moderator
Join Date: Nov 2013
Location: Hudson, WI
Posts: 9,836
Post Thanks / Like
These posts moved to separate thread.
Please don't hijack a 4 year old thread. Just start a new one with your problem and we'll be glad to help.
---
.
Make sure the windows are up before the snow plow goes by !!

Please help keep the lights on by subscribing:
To view links or images in signatures your post count must be 10 or greater. You currently have 0 posts.

Quote:
These posts moved to separate thread.
Please don't hijack a 4 year old thread. Just start a new one with your problem and we'll be glad to help.
Congratulations. You have now removed a solution relevant to the original Snow Shark transaxle gear issues from that thread, re-titled it with a non-Snow Shark title, and moved it to a forum which will likely never see a Snow Shark search.
Information is always more likely to be properly shared when placed in the original threads, especially since it is directly relevant to the original posted problem.
I was also presenting a solution, not just asking for help with a problem, which leads me to believe you did not not read or comprehend the content. My "problem" was 100% relevant to the original post, the parts actually in direct contact, my solution being a "above and beyond" CNC solution for these Snow Shark transaxles. Other parts can also be replicated.
Now I have to go back and edit my thread so that it makes sense. You can't afford my rates, and this wastes my time, time I went overboard on to help with parts that are no longer available, and hard to find as it is. Posting the same information in a new thread only clutters a board.
Perhaps return to DM'ing a RPG, where your "moves" will have greater perceived relevance.