Toro 421, Predator engine swap?
---
I am considering a Harbor freight Predator engine for my Toro 421, which threw a rod through the block last winter.
With a coupon that can be had pretty cheap. I have seen a few Tecumsehs on CL, but the price of a new Harbor Freight engine is pretty tempting.
Anything I should know before I do this?
Thanks.
not really, its pretty much a direct swap at least on a toro 521. the only thing you will have to change is is the bolt for the belt guide and the engine crankshaft bolt
Post Thanks / Like - 1 Thanks, 0 Likes, 0 Dislikes
frankjc
thanked for this post
You will also need to change the arrangement for the chute crank. The new engine will be a bit wider.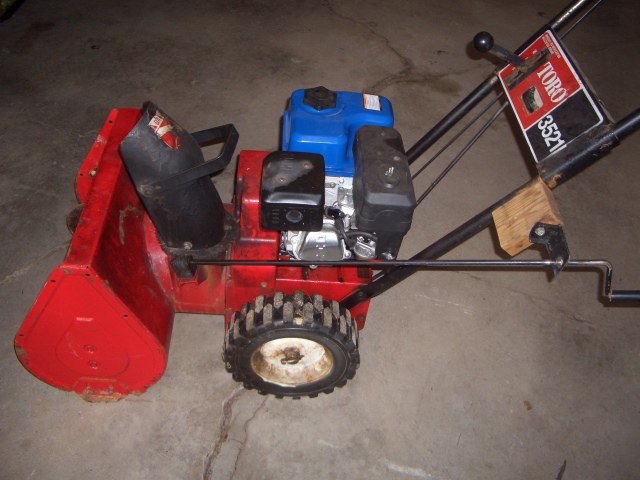 ---
Please direct all snow blower questions to the forums and not to me with PMs.
Post Thanks / Like - 1 Thanks, 1 Likes, 0 Dislikes
frankjc
thanked for this post
43128
liked this post
Watch the linkage carefully when you use it. It tends to get gummed up with the snow you're blowing and it can freeze up on you.

A few members have made a shroud/cover to keep crap out of the throttle and governor linkages.
---
Toro Powerlite 38172
Toro 418 38282
Toro 521 38052
this is how i extended my crank arm, i used one long bolt, one nut and two locknuts. very simple and it allows you to reuse the existing holes and bracket
Looks good. What size is the crank bolt for the predator?
crank bolt is a 5/16-24(aka 5/16 fine thread) and the bolts surrounding the crankshaft are the same
Looks good! I'll be doing mine some time soon. Hope I won't need it as much this year as last.