Discussion Starter
•
#1
•
Briggs OHV 205cc engine (120000) on Briggs snowblower (same model 922EXD for Simplicity and Snapper)
It was unused for two years; left with gas in the tank. I drained the tank, removed the carb and cleaned it clean enough to eat off it. No corrosion, just white gel deposits. High speed jet (bowl bolt) was clogged but is now open.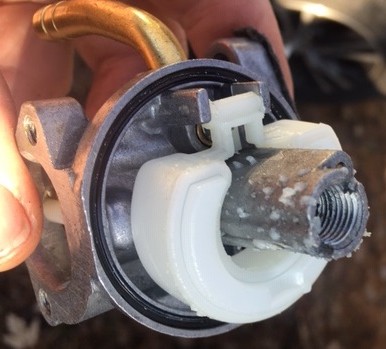 Problem is it that it runs lean and hunts when it is hot and the governed speed seems way too low throw snow.
It starts OK with full choke, but when hot has poor low speed or governed speed steady performance. At whatever the governed no-load speed is, it needs 3/4 closed choke to get it to run steady (obviously running lean). The governor is constantly (every second) pulling the throttle high to prevent it from dying. If I manually hold the throttle at say 1/2 or 2/3 full speed, the engine runs OK at those speeds.
The main jet has the number 75 engraved in it, which I assume is a 0.75mm orifice bore. The diameter of the wire I used to clean out the jet orifice was close to 0.75mm.
The idle passages might still be clogged, given the performance but the bore is plugged. I'd pull the plug but where does one get a replacement plug?
I'm reluctant to bore out the high speed jet since it runs OK at 1/2 throttle and higher. Does Briggs sell 80 or 85 main jets?
2. Can't find any manual Governor adjustment data in the Briggs shop manual
I downloaded the Briggs single cylinder OHV manual (typical minimalist manual) and the governor for a 120000 horz engine covers only throttle cable adjustment. There is no throttle cable on this snowblower, so there must be a manual adjustment somewhere (like there is on other models used for stationary service), but I can't find any type of adjustment that I could use to increase the governed speed high enough to get it to run steady.
The governor linkage at carb is as good as new, both link and the spring. And the way it hunts, the governor is doing its job, it's just set too low.
Anyone ever mess with the governor speed setting?