Discussion Starter
·
#1
·
Before the winter season, I wanted to verify/change all parts on my machine to be sure it would run top notch for the next few years.
I'm the second owner, the previous owner took really good care of it, besides oil changes, he only had to change the chute motor in 8 years (he bought the unit new in 2008). It was always stored in a garage.
I did 2 winters with the machine without any issues.
While the unit is teared down, I wanted to do a few mods:
impeller rubber kit to help clear the slush
plastic skids (my metal ones are almost worn out)
Tearing the front portion appart:
Front auger bearings and impeller bearings are a little bit stiff but no play in them (will change them anyway).
Belts are also in good shape (will change them anyway).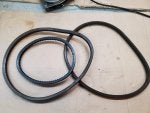 So far, for a 12 years old machine, it's in really good shape and will do many more.
I've own 2 "pro" Ariens snowblowers before, it's not the same game... Ok the 1336 is not cheap, but no parts to replace except a chute motor in 12 years... With my Ariens, I always had to replace parts every few years (the impeller bearing and clutch disk every 2-3 years).
I will post updates as I continue the process.