Discussion Starter
•
#1
•
I did an impeller mod on my 'new-to-me' Toro Powershift and did a few things different than typical impeller modifications. So, I thought I would document the mod.
The first thing I noticed with the Powershift impeller housing is that the impeller has less clearance at the top of the housing than it does on the side near the chute. On my machine it was about 1/8" less. So, probably best to measure the clearance all around the housing.
I found that it was best to measure/size the rubber paddles at the top of the housing, rather than the side.
Another thing that I decided to do was to install the paddles on the back side of the impeller blades, rather than the front as most folks do. The reason being to leave a smooth surface on the front of the impeller blade for the snow to 'slide' off as it gets ejected out of the housing and into the chute. With the paddles on the back side, I can have minimal obstruction of the flat blade surface.
I used 1/4" stainless steel panhead machine screws with a washer and nylock nuts on the back side. Here is the tape marking the drill hole locations (3 on each blade).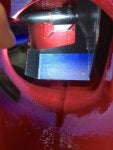 Access for attaching hardware is always a bit tough with the older machines, but here is one of the impeller blades with the paddle on the back side.
Here is another angle of the paddle installation.
The impeller was a bit tight within the housing once the 3 paddles had been installed. I sprayed some PAM in the housing and then ran the auger/impeller for a few minutes to 'break the paddles in'.
I did some initial testing of the impeller mod by chewing up an old wet snow bank at the end of the driveway. All seems good. :smile2: