Discussion Starter
•
#1
•
I have been meaning to remove and open up the transmission for some maintenance, but the process of removing it seemed to be somewhat complicated. Today, I decided what the heck . . . gave it a shot.
I found a set of transmission removal instructions on the Internet, so that was helpful.
Here is the process with a few of my tweaks and some pictures, for anyone who may need it.
1) Drain the gas (unless the tank is fairly empty)
2) remove the top belt cover pull it to the right side
3) tip the machine up on the bucket
4) disconnect the shift linkage at the ball joint near the transmission & remove the chassis back plate that covers the transmission
5) rotate the wheels to move the chain until you see the master link & remove the master link & the chain
6) remove the wheels
7) remove the 2 large shoulder bolts that form the pivot of the powershift & remove the axle assembly
8) remove the lower belt cover
9) remove the retainer for the cable that leads through the chassis on the right side & slide out the barrel end of the cable to make it loose
10) remove the pivot latch assembly by removing the bolt on both sides and detach the cable that controls the pivot latch by removing the retaining plug, be sure to account for the spring that provides downward tension on the pivot latch upon re-assembly.
11) remove 2 bolts on both sides of the transmission mount that hold it to the chassis
12) push the transmission up & remove the belt
13) pull the transmission mount out and turn it so that you can access the top bolts holding the transmission to the mount.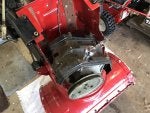 14) remove the 4 bolts that hold the transmission to the mount
15) remove the forward/reverse cable from the transmission by loosening the retaining bracket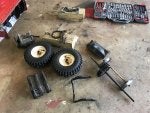 I got the transmission on the bench for disassembly. There are a couple of roll pins that have to come out before you separate the case halves.
The gears and linkages looked pretty good as there was a fair amount of grease in the transmission case.
I don't think I'll need to do too much work on it, since there is no internal rust on the gears, etc. The whole disassembly of the machine seems like a lot of work, just to get a glimpse inside the tranny, but probably something that is only needed about every 10 years or so.